Automated 1 Click Migration
Best Affordable UserVoice Alternatives
Looking for the best alternative to Uservoice? See why the others choose Sleekplan over Uservoice.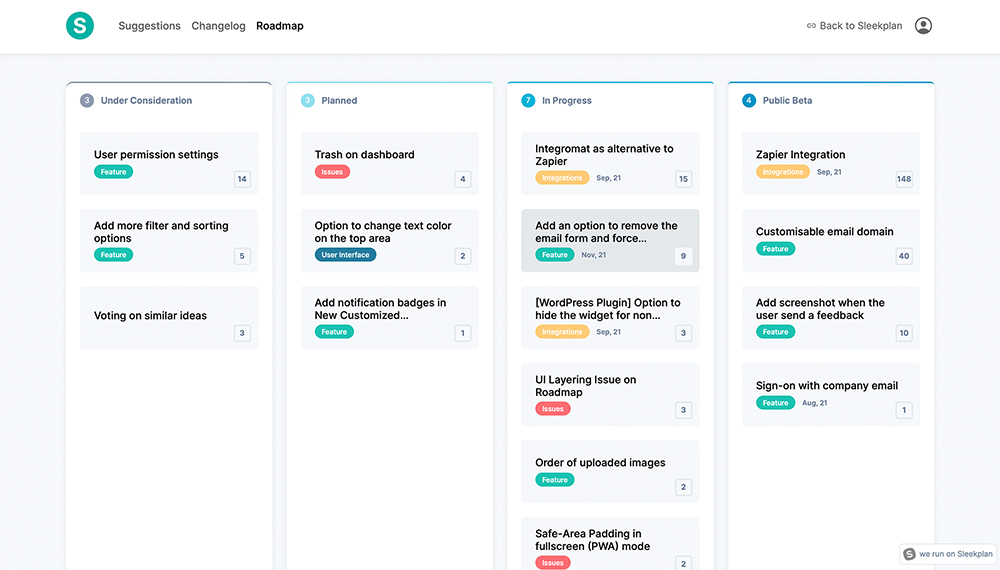 Uservoice Alternatives
You are looking for good and affordable alternatives to UserVoice? It's difficult to find out whether or not the software you choose is right for you. As we all know, acquiring new customers is a costly and difficult matter, and many companies fail. But retaining customers in the long term can often be more difficult than winning new customers. If you want to turn new customers into loyal customers, you need to understand their needs perfectly and encourage an ongoing dialogue with them. In recent years, several powerful cloud tools have become established in the area of customer service and support that promise to help in this regard. These include "Uservoice" and some alternatives. Below you find a list of alternative Enterprise Feedback Management software. Customer criticism and suggestions for improvement are of the highest importance for the makers of all products.
With UserVoice, Microsoft began some time ago to create a feedback platform where end-users and business partners can submit their suggestions and ideas for individual products. Any other user can then vote for these suggestions. So if a request is of interest to you and many others, Microsoft can see your feedback immediately. So customers can actively participate in the further development.
UserVoice Pricing
Until the end of 2014 Uservoice offered some different plans. Beginners were able to use the free UserVoice version, which contains only the basics. The prices for the paid plans started at $20 per user and month. Those who wanted to exploit the full potential of the solution and not do without any functions had to pay $95 per user and month for the "Ultimate" plan. Today pricing is not very transparent. The company focuses on larger customers and offers customer-based prices.
Uservoice is a web based service for gathering and managing customer feedback. It records user requests, ratings, ideas and problems for a website or product. Webmasters can access the information to improve their services. UserVoice was launched in California in 2008, the service is said to have over 100,000 customers worldwide and addresses large companies that want to gather customer feedback, effectively process support requests, and increase customer satisfaction.
Table of contents:
Best-in-class Uservoice Alternative:

Sleekplan!

Sleekplan is an alternative customer feedback management tool to Uservoice that helps you to cover the whole feedback loop - starting with the collection of feedback, through the prioritization and ongoing development of features, to the notification of your customers. With Sleekplan you get a fully integrated feedback solution made specifically for the needs of SaaS companies.
In-app widget, standalone website or iframe
Just one line of code and Sleekplan can easily be integrated straight into your existing web application.
Prioritize customer feedback
Do not simply rely on up- and downvotes. Sleekplan prioritizes your feedback based on better factors.
Keep a changelog
Keep your customers in the loop with new features. Notify customers about changes and record the ongoing progress in a changelog.
Fully integrated solution
Sleekplan can be fully integrated into your web application, with only one line of code.
Track customer satisfaction
Don't just discuss new ideas or bugs, but also keep an eye on the customer satisfaction and how it improves over time.
Top Alternatives to Uservoice
We are convinced that you will love Sleekplan. But of course we don't want to deprive you of other great alternatives to Uservoice out there. Blow you will find a list of great alternatives to Uservoice.
The Importance of Customer Satisfaction!
The success of a company is measured on many factors: steady growth, increasing sales, and profits or the successful development of new business areas are some of these factors. Customer satisfaction is an equally important measure. Satisfied customers recommend a company to others and develop into important regular customers. However, customer feedback can do more than simply indicate satisfaction. It helps to optimize the structure and internal processes of a company and thus actively contribute to the growth and a long-term increase in customer satisfaction.
"Run, hide, or say thank you: when faced with feedback, what do you do?" by Joy Mayer at TEDxCoMo
Enough Scrolling,
make the switch from Uservoice!
If you're interested in making the switch, we offer a free migration from Uservoice. The Sleekplan support team is here to help you with any questions. Effortlessly capture, track and organise your customers' feedback with a system built around your needs.