Alternatives to Aha!
Looking for the best alternative to Aha!? See why the others choose Sleekplan over Aha!.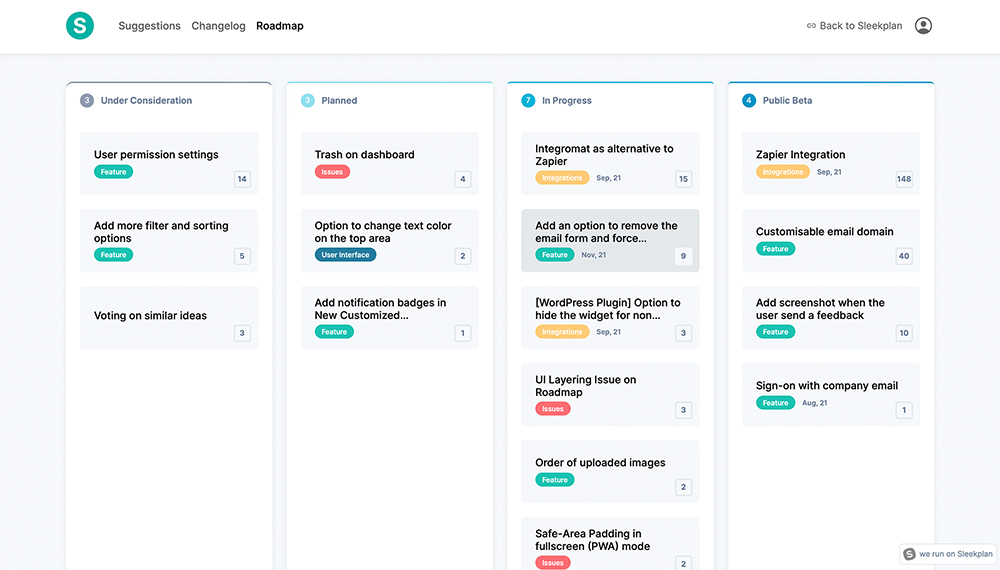 Aha! Alternatives
You are looking for an alternative product roadmap to Aha.io? Product roadmap software assists product managers and developers to create accurate plans and schedules for their products. With tools for team collaboration and customer feedback, Product Roadmap software helps you develop project goals and manage the entire product life cycle. Aha.io is a product management software for your entire product life cycle. If you are looking for alternatives to Aha.io, you should first think carefully about what you and your team need. Every alternative to Aha.io has its advantages and disadvantages and not all alternatives can do everything equally well. To find the best alternative to Aha.io take a look at our checklist below.
The five key points to consider when reviewing a roadmap tool:
Time saving. Does the roadmap tool makes it much easier for you to visually plan, create and update your project?
Adjustment. Every project is different. So is it a good idea to use the same colours and shapes for everyone? Certainly not.
Easy-to-use. Most of the work these days is collaborative and you are always in close contact with a customer or team. That's why you need a roadmap tool that works the way your customers and team do.
Integrations. You should choose a roadmap tool that can be easily integrated with your existing project management software.
Customer Feedback. You should choose a roadmap tool that allows you to integrate customer feedback within your planning.
Aha.io Pricing
Aha.io offers its customers a free 30-day trial to get a first hand experience with the software before they pay for it. The Premium Plan is $59 per user/month and is billed annually. It includes all the features you need to establish a strategy, build roadmaps, create plans, set priorities, and gather feedback.
Aha.io empowers product managers to understand the why, when and what of products by helping them to create complex product portfolios, complete with schedules, goals, release strategies and more. Aha.io is a roadmapping and product management tool for teams. It allows teams to create, prioritize and plan the features of their products. Aha has an API that programmers can use in their own applications or websites to display this information.
Table of contents:
Best-in-class Aha! Alternative:

Sleekplan!

Sleekplan is an alternative customer feedback management tool to Aha! that helps you to cover the whole feedback loop - starting with the collection of feedback, through the prioritization and ongoing development of features, to the notification of your customers. With Sleekplan you get a fully integrated feedback solution made specifically for the needs of SaaS companies.
In-app widget, standalone website or iframe
Just one line of code and Sleekplan can easily be integrated straight into your existing web application.
Prioritize customer feedback
Do not simply rely on up- and downvotes. Sleekplan prioritizes your feedback based on better factors.
Keep a changelog
Keep your customers in the loop with new features. Notify customers about changes and record the ongoing progress in a changelog.
Fully integrated solution
Sleekplan can be fully integrated into your web application, with only one line of code.
Track customer satisfaction
Don't just discuss new ideas or bugs, but also keep an eye on the customer satisfaction and how it improves over time.
Top Alternatives to Aha!
We are convinced that you will love Sleekplan. But of course we don't want to deprive you of other great alternatives to Aha! out there. Blow you will find a list of great alternatives to Aha!.
Collect customer feedback without committing to SaaS product roadmap
In short, a roadmap is a strategic planning technique in which the goals and main outcomes (tasks, milestones) of a project are summarized on a time axis in a single visual representation or graphic. You should always remember that a roadmap planner differs from a normal project plan in that it does not contain all the details of a project. Instead, it is a high-level strategic tool that is easy to understand.
Must watch video by Dan Martell: "How To collect customer feedback without committing to SaaS product roadmap"
Enough Scrolling,
make the switch from Aha!!
If you're interested in making the switch, we offer a free migration from Aha!. The Sleekplan support team is here to help you with any questions. Effortlessly capture, track and organise your customers' feedback with a system built around your needs.