Best Alternatives to GetBeamer.com (Beamer)
Looking for the best alternative to GetBeamer? See why the others choose Sleekplan over GetBeamer.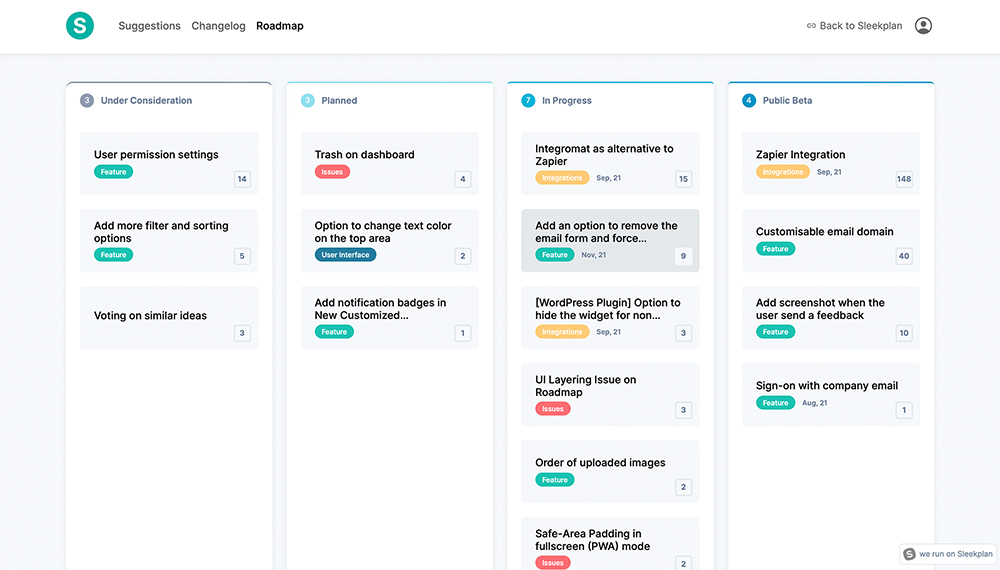 GetBeamer Alternatives
GetBeamer.com (or Beamer) is an alternative to the classic email newsletter. You can use their software to announce your news, bug fixing, product features, and more to your audience. For example, it can deliver all marketing messages to your audience.
Beamer: A changelog tool to announce relevant news
Changelog is a simple, lightweight and easy-to-use tool that helps you create an interactive changelogs for your product and software to efficiently deliver product updates. Changelog tools like GetBeamer can be used by software developer, product managers, and even marketing teams, from individuals to enterprises with hundreds of developers. A changelog tool or release note tool can not only be used to showcase changes between versions but also to announce new features, share important product updates and even marketing content.
Alternative changelog tools to GetBeamer?
GetBeamer is by far not the only tool to keep a changelog. There are a lot of different tools (like Sleekplan) that offer similar or even more advanced features compared to GetBeamer. First, let's take a quick look at the facts about Beamer and why Sleekplan is a good fit for you!
GetBeamer Pricing
GetBeamer (Beamer) has a recurring pricing model starting at $0 up to $249/month if billed anually. The lowest plan comes with a maximum of 1000 monthly visitors up to unlimited in the highest plan.

GetBeamer is a cheap alternative to other changelog tools if you only need basic features, but Beamer can quickly become expensive on advanced usage and needs.
GetBeamer.com is a software to announce your product news, bug fixes, new features, and marketing announcements to your audience.
Table of contents:
Best-in-class GetBeamer Alternative:

Sleekplan!

Sleekplan is an alternative customer feedback management tool to GetBeamer that helps you to cover the whole feedback loop - starting with the collection of feedback, through the prioritization and ongoing development of features, to the notification of your customers. With Sleekplan you get a fully integrated feedback solution made specifically for the needs of SaaS companies.
Billing is based on
set of features & monthly visitors
In-app widget, standalone website or iframe
Just one line of code and Sleekplan can easily be integrated straight into your existing web application.
Prioritize customer feedback
Do not simply rely on up- and downvotes. Sleekplan prioritizes your feedback based on better factors.
Keep a changelog
Keep your customers in the loop with new features. Notify customers about changes and record the ongoing progress in a changelog.
Fully integrated solution
Sleekplan can be fully integrated into your web application, with only one line of code.
Track customer satisfaction
Don't just discuss new ideas or bugs, but also keep an eye on the customer satisfaction and how it improves over time.
Top Alternatives to GetBeamer
We are convinced that you will love Sleekplan. But of course we don't want to deprive you of other great alternatives to GetBeamer out there. Below you will find a list of great alternatives to GetBeamer.
Enough Scrolling,
make the switch from GetBeamer!
If you're interested in making the switch, we offer a free migration from GetBeamer. The Sleekplan support team is here to help you with any questions. Effortlessly capture, track and organise your customers' feedback with a system built around your needs.