Top Alternatives to Nolt.io
Looking for the best alternative to Nolt? See why the others choose Sleekplan over Nolt.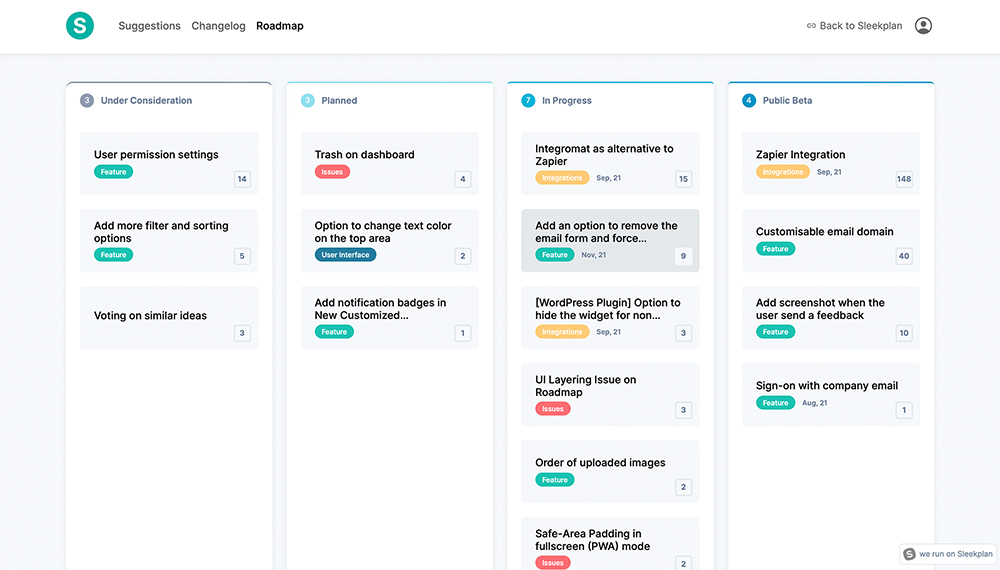 Nolt Alternatives
Nolt is an easy and quick way to gather user feedback. Nolt is a platform that allows anyone to collect feedback from customers, employees, friends or any other group that can provide the feedback they need. Nolt allows you to prioritise comments, create a roadmap with a few clicks and keep users up to date with automatic updates.
Alternatives to Nolt?
However, Nolt is a very standardized solution that has little room for flexibility. So you might be looking for a better alternative to Nolt? Let us first look at Nolts pricing structure.
Nolt.io Pricing
Like Sleekplan, Nolt is also located in the low price range compared to other customer feedback tools. There is only one plan for $25/month per board.
Nolt is a really affordable feedback solution compared with others here. Nolt can be used on more than one website and requires no installation. It is a great solution for people who want to get customers opinions. Nolt is a platform that allows anyone to collect crowdsourcing feedback from customers, employees, friends or any other group that can give feedback.
Table of contents:
Best-in-class Nolt Alternative:

Sleekplan!

Sleekplan is an alternative customer feedback management tool to Nolt that helps you to cover the whole feedback loop - starting with the collection of feedback, through the prioritization and ongoing development of features, to the notification of your customers. With Sleekplan you get a fully integrated feedback solution made specifically for the needs of SaaS companies.
Target customer
small to medium size companies
In-app widget, standalone website or iframe
Just one line of code and Sleekplan can easily be integrated straight into your existing web application.
Prioritize customer feedback
Do not simply rely on up- and downvotes. Sleekplan prioritizes your feedback based on better factors.
Keep a changelog
Keep your customers in the loop with new features. Notify customers about changes and record the ongoing progress in a changelog.
Fully integrated solution
Sleekplan can be fully integrated into your web application, with only one line of code.
Track customer satisfaction
Don't just discuss new ideas or bugs, but also keep an eye on the customer satisfaction and how it improves over time.
Top Alternatives to Nolt
We are convinced that you will love Sleekplan. But of course we don't want to deprive you of other great alternatives to Nolt out there. Blow you will find a list of great alternatives to Nolt.
What is customer centricity?
Companies in all industries are abandoning traditional business and product strategies as they begin to adopt the idea of customer orientation. While it is natural to be business, product or sales-oriented, brands can no longer afford to think only about what is good for the company without considering the impact on the customer. Customer centricity is often seen as a starting point for ideas such as customer satisfaction, customer experience and customer feedback, but being truly customer-centric is more than that. It is about more than making your customers happy. And it is not enough to assume that you know what your customers need.
The 3 pitfalls of customer centricity!
Enough Scrolling,
make the switch from Nolt!
If you're interested in making the switch, we offer a free migration from Nolt. The Sleekplan support team is here to help you with any questions. Effortlessly capture, track and organise your customers' feedback with a system built around your needs.