Automated 1 Click Migration
Best Alternatives for Upvoty.com
Looking for the best alternative to Upvoty? See why the others choose Sleekplan over Upvoty.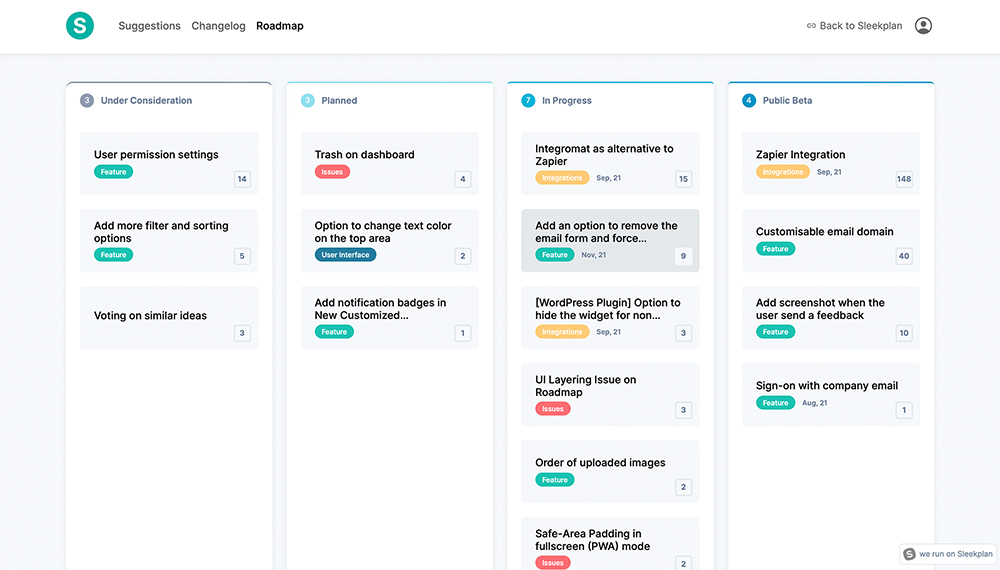 Upvoty Alternatives
Upvoty is a user feedback tool that provides a quick and easy-to-use solution to company's feedback needs. It is created with the goal of making it easier for companies to collect customer feedback in a votable idea board. There are many alternative tools that companies can use to gather customer feedback: Upvoty wants to privde a way to collect public customer feedback using a simple platform. They offer various features such as Feedback boards, Product roadmap, Changelog, Custom domain and some more.
💡 So, are there any Upvoty alternatives?
There are many reasons why people choose Sleekplan as an alternative over Upvoty. Some of the reasons are that Sleekplan has an intuitive interface that is very easy to use - for end-users and team members as well. It also has a free 30-day trial for customers to test out the product before they invest in it, - and even a free plan. It also offers more in-depth features than Upvoty, such as segmentation.
💵 Upvoty Pricing
The pricing plan for Upvoty starts from $15/mo for up to 150 tracked users and 1 board and goes all the way up to $49 for unlimited tracked users and boards.
Upvoty is a service that allows websites to integrate user voting system. Users can vote on feature requests and suggestions, giving website owners an insight into what is popular right now. Upvoty is used by SaaS companies, start-ups or basically anyone who needs user feedback and cares about product optimization can use canny to turn feedback from your users into actionable product optimizations.
Table of contents:
Best-in-class Upvoty Alternative:

Sleekplan!

Sleekplan is an alternative customer feedback management tool to Upvoty that helps you to cover the whole feedback loop - starting with the collection of feedback, through the prioritization and ongoing development of features, to the notification of your customers. With Sleekplan you get a fully integrated feedback solution made specifically for the needs of SaaS companies.
Target customer
Small to mid-size SaaS-Businesses
In-app widget, standalone website or iframe
Just one line of code and Sleekplan can easily be integrated straight into your existing web application.
Prioritize customer feedback
Do not simply rely on up- and downvotes. Sleekplan prioritizes your feedback based on better factors.
Keep a changelog
Keep your customers in the loop with new features. Notify customers about changes and record the ongoing progress in a changelog.
Fully integrated solution
Sleekplan can be fully integrated into your web application, with only one line of code.
Track customer satisfaction
Don't just discuss new ideas or bugs, but also keep an eye on the customer satisfaction and how it improves over time.
Top Alternatives to Upvoty
We are convinced that you will love Sleekplan. But of course we don't want to deprive you of other great alternatives to Upvoty out there. Blow you will find a list of great alternatives to Upvoty.
Customer feedback for SaaS products
As a SaaS company, you want to know the customer feedback for your product. You can get this feedback by using various methods like surveys and analytics on your website. One of the most effective methods is surveying customers and gaining their feedback. It helps to separate the customer experience from the product experience. Surveys allow you to conduct research and get responses from a wider range of people in order to get better results. Surveys are one of the most effective methods for gaining customers' feedback. Surveys allow you to conduct research and separate the customer experience from the product experience. Surveys have also been shown to increase customer loyalty, as they have a greater sense of connection to the company.
How to create the perfect customer survey?
Enough Scrolling,
make the switch from Upvoty!
If you're interested in making the switch, we offer a free migration from Upvoty. The Sleekplan support team is here to help you with any questions. Effortlessly capture, track and organise your customers' feedback with a system built around your needs.