Automated 1 Click Migration
The best Alternative to Canny.io
Looking for the best alternative to Canny.io? See why the others choose Sleekplan over Canny.io.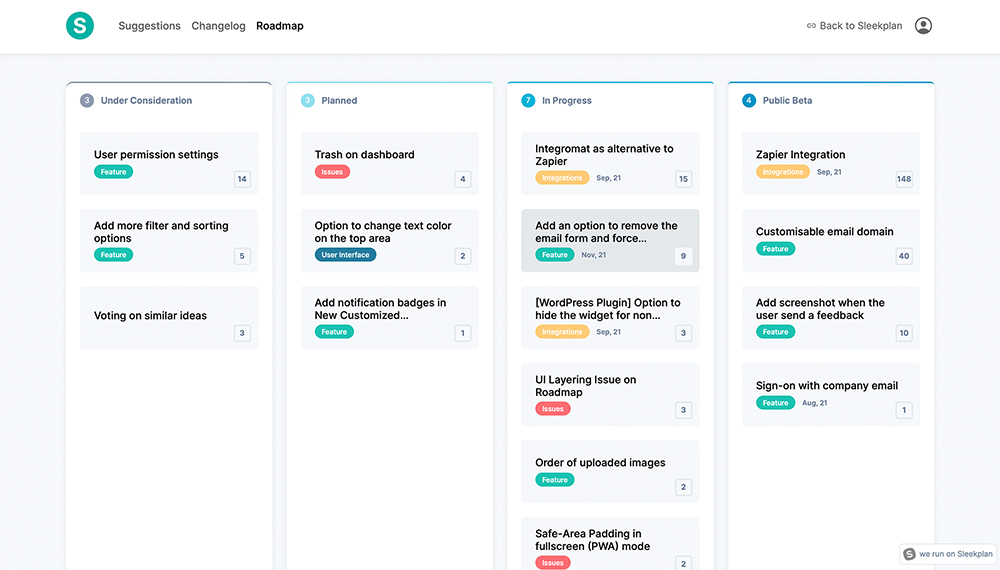 Canny.io Alternatives
You are looking for good alternatives and competitors to Canny.io? What's difficult is finding out whether or not the software you choose is right for you. In addition to the classic help desk tools, there are growing numbers of services on the cloud market, such as Canny.io, which combine the typical features of ticketing and support with marketing tools such as customer feedback. A Canny.io support forum for example lets you record, process, and evaluated feature requests from your customers. A voting mechanism makes it possible to see which features the users really want. The implementation and design of features can be discussed together. The goal is to drive open and transparent communication with customers. And there are some greate alternatives to Canny.io out there you can find them below.
What is a customer feedback tool?
Customer feedback tools are widely used by software companies. The applications offer many tools that give customers the opportunity to suggest their own ideas for new features, ask questions, report problems or bugs and seek help. If you are looking for alternatives to Canny.io, we have put together a list of customer feedback management tools below.
Canny.io Pricing
Canny.io is located in the mid to high price range compared to other customer feedback tools. Prices at Canny.io start at $50 per month, for this price the number of users is limited to 100. The pricing model scales with the number of users (For example, for 1000 users you pay $200).
Canny.io is a feature voting and changelog tool for product managers. It allows companies to get feedback from their users and get a feel of what features are in high demand for future releases. Canny.io is a b2b customer feedback solution, providing companies with an easy way of collecting feedback from their customers. They can do this by using the Canny platform, which is available via a web platform. It is cloud-based solution that helps companies small to large collect, prioritize, and track feedback with simple voting features. Canny.io lets you track which customers want which feature. This data helps your team make more robust product decisions.
Table of contents:
Best-in-class Canny.io Alternative:

Sleekplan!

Sleekplan is an alternative customer feedback management tool to Canny.io that helps you to cover the whole feedback loop - starting with the collection of feedback, through the prioritization and ongoing development of features, to the notification of your customers. With Sleekplan you get a fully integrated feedback solution made specifically for the needs of SaaS companies.
Fully featured in-app widget
In-app widget, standalone website or iframe
Just one line of code and Sleekplan can easily be integrated straight into your existing web application.
Prioritize customer feedback
Do not simply rely on up- and downvotes. Sleekplan prioritizes your feedback based on better factors.
Keep a changelog
Keep your customers in the loop with new features. Notify customers about changes and record the ongoing progress in a changelog.
Fully integrated solution
Sleekplan can be fully integrated into your web application, with only one line of code.
Track customer satisfaction
Don't just discuss new ideas or bugs, but also keep an eye on the customer satisfaction and how it improves over time.
Top Alternatives to Canny.io
We are convinced that you will love Sleekplan. But of course we don't want to deprive you of other great alternatives to Canny.io out there. Below you will find a list of great alternatives to Canny.io.
How to get Meaningful Customer Feedback?
Well, you can not always satisfy everybody. And yet satisfaction is what customers expect. When you run an online business, you must do everything you can to satisfy as many customers as possible. This is exactly where Customer Feedback Management (CFM) comes in. CFM does what Google and Facebook can not. While ratings there are only "good" and "bad", CFM goes deeper and illustrates what your customers really think. Many companies obtain customer feedback by using a variety of secondary survey and other feedback tools. Much softer is the question of how meaningful the feedback is and how it can help to focus the service or product.
"Get in the Van" and Other Tips for Getting Meaningful Customer Feedback by Michael Sippey
Enough Scrolling,
make the switch from Canny.io!
If you're interested in making the switch, we offer a free migration from Canny.io. The Sleekplan support team is here to help you with any questions. Effortlessly capture, track and organise your customers' feedback with a system built around your needs.