Best UserEcho Alternative and Similar Tools
Looking for the best alternative to UserEcho? See why the others choose Sleekplan over UserEcho.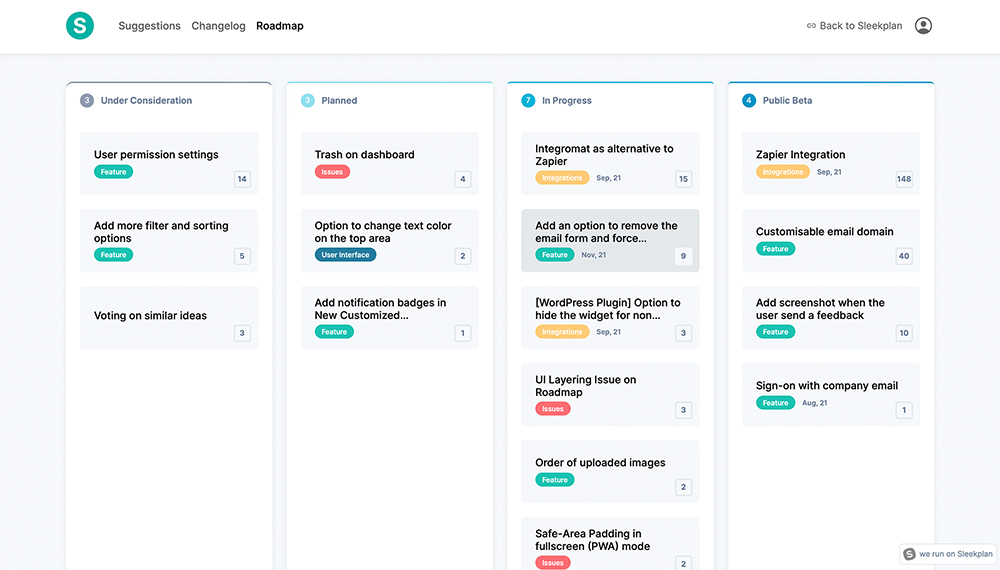 UserEcho Alternatives
You are looking for good alternatives and competitors to UserEcho? UserEcho is well-tried but the user interface seems to be not that modern and fancy as other alternatives out there manage it today. UserEcho can score points especially with smaller companies that need a solution that is as easy and compact as possible. The software consists of three important core modules: support forum, help desk and live chat, and according to the manufacturer, the aim is to create open and transparent communication with existing and potential customers online. Social networks play a central role and can be seamlessly integrated into the company's own support portal. Another advantage of UserEcho is its numerous tools and integration possibilities. For example, a useful feedback widget is available that can be integrated into any website. This allows customers to contribute their own ideas and suggestions, and express criticism. What's difficult is finding out whether or not the software you choose is right for you. There are some alternatives to UserEcho that helps business of all sizes to keep in touch with their customers, giving them the opportunity to express themselves through forums, surveys and feedback.
UserEcho Pricing
UserEcho does not offer a free version. There is only one plan available from $19/month per agent (billed anually) or $25/month per agent (billed mobthly). Other packages like white-labeling are availible for additional $100/month.
UserEcho is a tool to deal with your clients, their wishes, ideas and requirements. UserEcho is feedback and request system for websites and products. It captures user feedback and requests which can be used by developers to improve their products. UserEcho allows sharing of the information with other people in an organization who might not otherwise have access to it. This makes it easier for project managers, product managers and marketers to see what customers want.
Table of contents:
Best-in-class UserEcho Alternative:

Sleekplan!

Sleekplan is an alternative customer feedback management tool to UserEcho that helps you to cover the whole feedback loop - starting with the collection of feedback, through the prioritization and ongoing development of features, to the notification of your customers. With Sleekplan you get a fully integrated feedback solution made specifically for the needs of SaaS companies.
Pricing
from $19/month (annually)
In-app widget, standalone website or iframe
Just one line of code and Sleekplan can easily be integrated straight into your existing web application.
Prioritize customer feedback
Do not simply rely on up- and downvotes. Sleekplan prioritizes your feedback based on better factors.
Keep a changelog
Keep your customers in the loop with new features. Notify customers about changes and record the ongoing progress in a changelog.
Fully integrated solution
Sleekplan can be fully integrated into your web application, with only one line of code.
Track customer satisfaction
Don't just discuss new ideas or bugs, but also keep an eye on the customer satisfaction and how it improves over time.
Top Alternatives to UserEcho
We are convinced that you will love Sleekplan. But of course we don't want to deprive you of other great alternatives to UserEcho out there. Blow you will find a list of great alternatives to UserEcho.
How to gather user feedback for prototypes?
When you have built your prototypes based on the ideas you or your team have come up with, it is time to get feedback from the people you are going to test them on. Enhancing the way you collect feedback - and thus learn from your own prototypes and users - is essential to save time and resources in the prototype and testing phase of the Design Thinking approach - and in any other human-centric design process. If you work in a fast and efficient way, you can move quickly from prototype creation, through design and testing, to gathering feedback and finally to build a new and improved version of your prototypes or product ideas.
How to prototype and gather user feedback as quickly as possible by Steve Jarrett, CPO at DICE
Enough Scrolling,
make the switch from UserEcho!
If you're interested in making the switch, we offer a free migration from UserEcho. The Sleekplan support team is here to help you with any questions. Effortlessly capture, track and organise your customers' feedback with a system built around your needs.