Alternatives to Get Satisfaction
Looking for the best alternative to Get Satisfaction? See why the others choose Sleekplan over Get Satisfaction.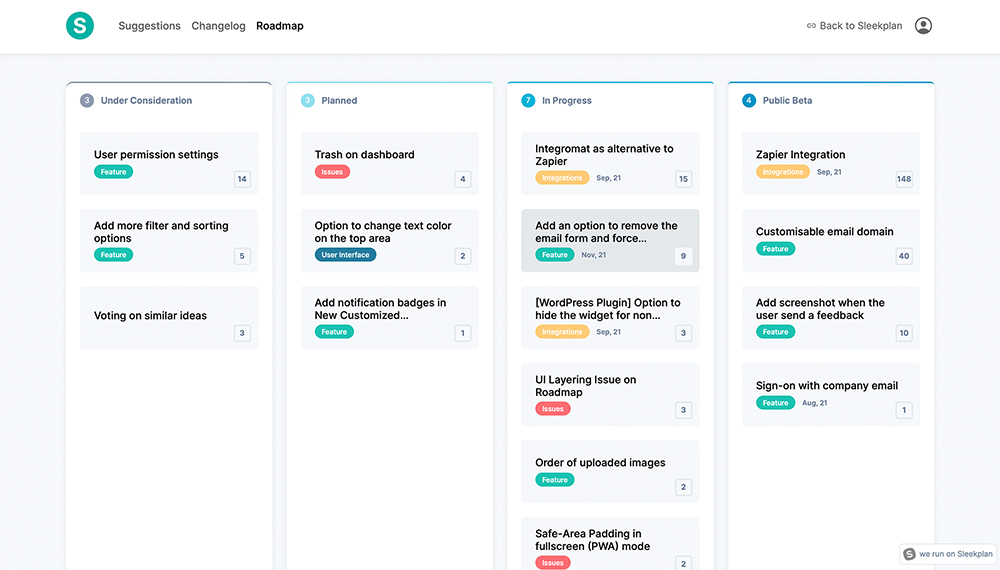 Get Satisfaction Alternatives
You are looking for good and affordable alternatives to Get Satisfaction? Get Satisfaction enables companies to create online communities with little effort and integrate them easily into any website. The goal is to drive open and transparent communication with customers. Social networks play a decisive role in this and are seamlessly integrated into the platform. This allows companies to centrally track and control all online activities on the most important social media channels relating to their own brand. In addition, the service offers numerous tools and integration options that make it easy for customers to contribute their own ideas for new features and express their opinions, wishes and needs. It can be difficult to find out whether or not the software you choose is right for you. Below we have put together a list of Enterprise Customer Feedback Management software.
Get Satisfaction Pricing
The last known plans are that the subscription starts at $39 per month for annual payment and $49 per month for monthly payment with a 30-day trial version for monthly subscriptions. However, today the company only offers custom pricing.
Get Satisfaction is a similar service which allows companies to manage customer support and feedback through the web. It also helps companies build better products with customer input. Get Satisfaction has an API that allows programmers to access this service for third party integrations . This article will guide you how to use this API for creating your own plugin or application. With Get Satisfaction, companies can create online communities with little effort and easily integrate them into any website.
Table of contents:
Best-in-class Get Satisfaction Alternative:

Sleekplan!

Sleekplan is an alternative customer feedback management tool to Get Satisfaction that helps you to cover the whole feedback loop - starting with the collection of feedback, through the prioritization and ongoing development of features, to the notification of your customers. With Sleekplan you get a fully integrated feedback solution made specifically for the needs of SaaS companies.
Sleekplan vs. Get Satisfaction
In-app widget, standalone website or iframe
Just one line of code and Sleekplan can easily be integrated straight into your existing web application.
Prioritize customer feedback
Do not simply rely on up- and downvotes. Sleekplan prioritizes your feedback based on better factors.
Keep a changelog
Keep your customers in the loop with new features. Notify customers about changes and record the ongoing progress in a changelog.
Fully integrated solution
Sleekplan can be fully integrated into your web application, with only one line of code.
Track customer satisfaction
Don't just discuss new ideas or bugs, but also keep an eye on the customer satisfaction and how it improves over time.
Top Alternatives to Get Satisfaction
We are convinced that you will love Sleekplan. But of course we don't want to deprive you of other great alternatives to Get Satisfaction out there. Below you will find a list of great alternatives to Get Satisfaction.
Enough Scrolling,
make the switch from Get Satisfaction!
If you're interested in making the switch, we offer a free migration from Get Satisfaction. The Sleekplan support team is here to help you with any questions. Effortlessly capture, track and organise your customers' feedback with a system built around your needs.