Public Roadmap Tool
The best Public Roadmap Tool for your Product!
Quite simple! Keep your user up to date with insight into your future planning using a public roadmap tool
The all-in-one product roadmap tool
A public product roadmap is a place where your users can get a better insight into your planning, but most importantly: where users can contribute to the ongoing development of your service! Public roadmaps aren't good just for existing customers. They can also be super effective at reeling in new ones.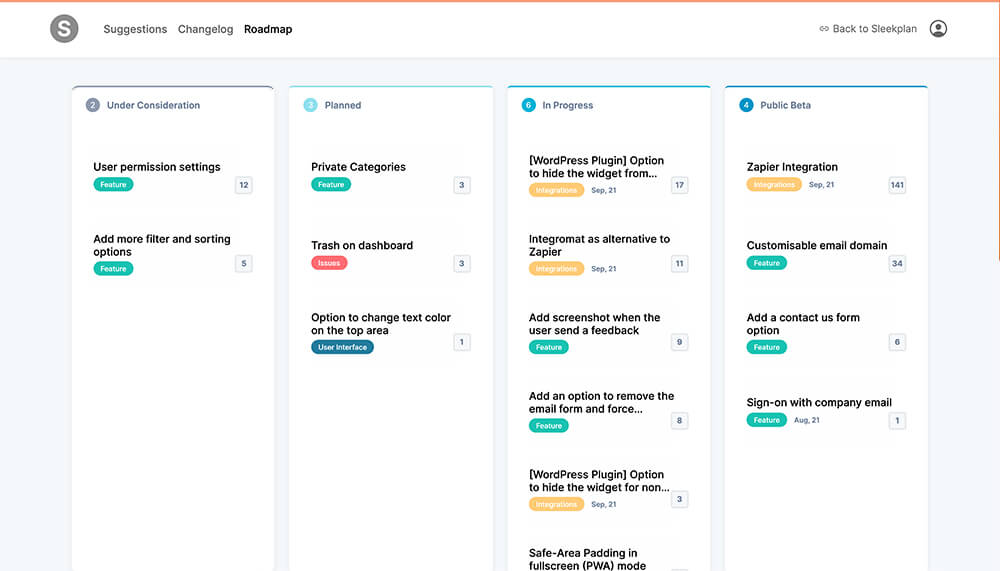 A Roadmap Tool
for all your needs
Sleekplan is an all-in-one feedback tool that brings a feature voting board, a roadmap tool, and a changelog to your website or product! Let your users suggest new and votes on existing roadmap items without leaving the website.
In-App Widget
Install in-app or on your website so users can access easily.
Status Updates
If the status of a post has changes we notify subscriber via email and in-app.
User Voting
If the status of a post has changes we notify subscriber via email and in-app.
Status Tags & Categories
You decide wich status tags should appear in your roadmap and in which order.
Setup

Public or Internal Roadmaps Depending on your needs you can share your roadmap with a public audience or restrict access to your board to certain users or team members.

On public boards you can allow users to submit suggestions and vote on roadmap items anonymously, with a regsitration or single sign-on.
Custom
Appearance
A roadmap is a core part of your product communications, so it's mandatory that everything fits your brand tone and style.
Lucky you! At Sleekplan you can set a custom domain and customize colors, terms, or content so that the changelog tool completely fit into your brand styles.
Integrated
with tools you already use
Sleekplan comes with a whole bunch of Integrations, making it easy to integrate the tool with your current workflow. What about syncing your public roadmap with Jira, or Github Issues...
In-app

Widget,
and Standalone Website Sleekplan comes with a powerful in-product widget.

Share your roadmap with anonymous or known users via a standalone page or in-product widget.
Keep your users

in the Loop Notify your user on status updates via email and in-app. With Sleekplan you can also keep a changelog to share recent changes and keep your users up-to-date.
Trusted by
all-size Businesses
What is a public product roadmap tool
and why you should have one
A roadmap is a visual representation of relationships between market developments, customer requirements, a company's products, technologies, technology expertise and research results that may be relevant to a company. The roadmap primarily shows long-term developments in these areas and is thus a roadmap for corporate strategy and product development.
Roadmapping includes all activities necessary to create and maintain a roadmap. This process is intended to support medium- and long-term planning in a company.
The roadmap uses the metaphor of a map or road map and thereby emphasizes the importance of the graphical and transparent preparation of analysis and forecast information in order to provide orientation for corporate decisions and plans.
Why you should have a public product roadmap tool:
1. Your customers will love it
Your customers will love you for being transparent. Once you share what you're working on, your customers will be more inclined to tell you what they're thinking and interact with you directly.
2. Attract new customers and stand out from the competition
Site visitors who are browsing and thinking about signing up for your product will appreciate the transparency of a public roadmap. They'll have a better idea of what they're signing up for and what's to come, especially for early-stage SaaS companies.
3. Build the right features based on customer feedback.
By making your roadmap public, your customers can tell you whether or not they think you're on the right track. Their feedback on your planned features can be invaluable.
4. Good for your team
Sharing your plans and roadmap openly ensures that your team has thought through what goes into the roadmap.
Satisfying customers, made simple.
Start your 30-day free trial and you can simply try the Business plan 30 days for free without any conditions. If you are satisfied, you can switch to a suitable plan afterward.