Changelog Tool
#1 Changelog Tool for your Website, Software or App
Keep your users up-to-date with email and in-app announcements using a fully integrated changelog tool
Keep everyone engaged with a powerful changelog software
Sleekplan is an embedded all-in-one tool to track customer feedback, build a roadmap, and keep a changelog - all in one place - made for mobile apps, and web-based software. Easily notify your users about recent changes, product updates and announcements using in-product announcements and email notifications.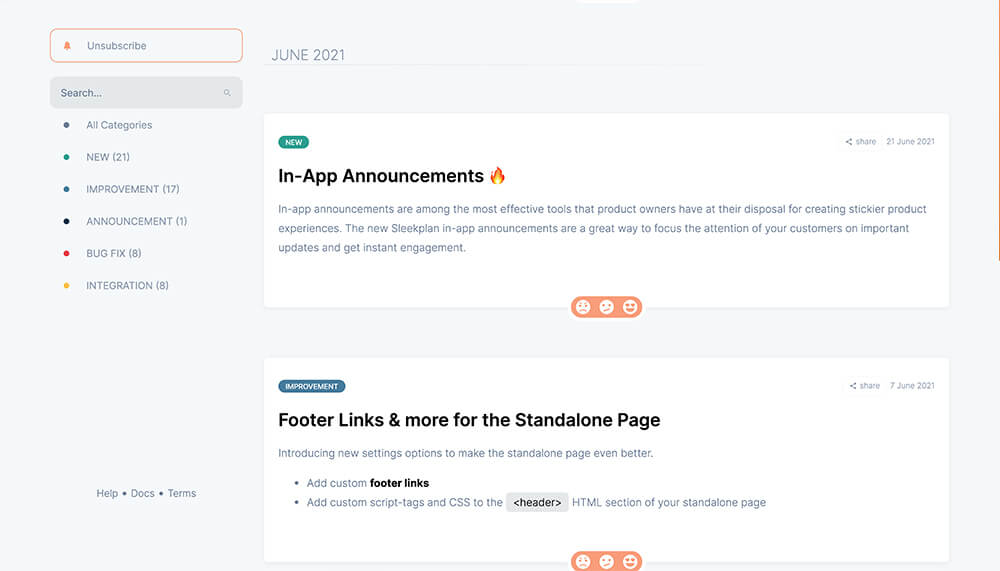 A Changelog Tool,
loaded with powerful features!
Sleekplan is the swiss army knife, packed with a whole bunch of features, to announce new features, content, bug fixes, or updates at a scheduled time of your choice.
In-App Widget
Install the changelog tool in-app or on your website
Custom Domain
Setup a custom subdomain to share your changelog
Call-to-action
Point your users into the right direction
Unread Badge
Let your users know when new changlogs arrive
Schedule
Changelog Updates
Easily schedule changelog updates to a set day and time to notify your subscribers. Using a changelog tool also automates the need to send announcements at the perfect time to boost engagement.
Keep a Changelog:


Public or Private

A changelog tool for your internal and public updates. You can easily control the access to your board. Make a public changelog to keep users and customers up-to-date or limit access to internal or external audiences.
Customize Appearance
Your changelog needs to fit your brand tone and style. That's why Sleekplan provides you with a whole bunch of customization options to make that happen.
Send

Announcements Don't let your hard work go unnoticed! Let users subscribe to your recent updates and improve user engagement with a range of different ways to get your changelogs in front of your audience.

After all, what good is a changelog if no one notices? Sleekplan allows your user to subscribe to changelog updates and you can announce new posts via email or right in-app.

Get Started
Collect Feedback

from Changelog posts
Fast feedback and short development cycles are the key. Get feedback on your recent changelog updates and announcements, so you can keep track of the customer satisfaction for your software, website or mobile app.
Trusted by
all-size Businesses
What is a changelog tool and why to use one?
Are you looking for a changelog tool for your app, website, or project? A must-have for any software company, isn't it? We'll look at why Sleekplan is the best changelog tool to get up and running fast.
What is a changelog? A changelog is a log of notable changes made to a software. A changelog can be used for many purposes, but they are most commonly used by developers and product managers to provide an overview of what has changed in each release, or version of a software tool or app. Changelogs are also often used to publish announcements and relevant news about a product to users and customers.
Changelog tools are used as a communication tool between software vendors, developers and the community of users or fans around their products. The changelog can be seen as an open letter from the product owner discussing what has been changed recently in the company's software development process with details about new features added or bugs fixed. From the users perspective: The changelog is also very useful for those who want to know exactly what new features have been added or removed from the application.
What is a changelog software?
A changelog tool is a software used to manage the different versions of an application or app. It also serves as documentation for what has changed in each version, helping users and customers understand precisely which features have been added or removed with each release. A changelog software makes it easier for product managers to handle and publish changelogs to their users and customers.
This is why keeping a changelog can help your product management team stay organized while making it easy for users and customers to see what has changed in each version of your product.
Required features for each changelog tool!
The best-in-class changelog tool should include these 6 key features:
Email announcements: This is an key part of every changelog software! Send email announcements to your users and customers with each changelog release.
Searchable and sortable feed: A changelog can get very large over time, especially if you ship a lot of updates. It is important that your changelog tool has a searchable and sortable feed of all the additions, removals and changes included in each release.
Social sharing: Make it easy for users to share their favorite updates on social media when you add this feature! Your customers will love sharing with friends on Facebook or Twitter how awesome they think your product is!
Simple release notes: Keep your changelog tool simple and easy to use. Using editor with lots of features that let you add images, links or other formatting directly into the changelog entries in a user-friendly interface.
Schedule posts: Scheduling chnagelog updates to be published at a specific time or date is incredibly important. Making it easy to schedule changelogs for future release dates and times makes your product management process more efficient, helping you get back to building new features.
Collect feedback: Get feedback on recent updates from your users and customers with a changelog software that lets you collect feedback on specific new updates. An amazing feature to get input from the people who matter most: Your customers!
Why keeping a changelog?
A changelog software can make it easier for users and customers to understand what changes have been made, what features have been added and what announcements and relevant news came up. This can be especially useful for those who want to stay up-to-date with the latest news and product updates from your company, as changelogs give them all of this info at their fingertips.
Satisfying customers, made simple.
Start your 30-day free trial and you can simply try the Business plan 30 days for free without any conditions. If you are satisfied, you can switch to a suitable plan afterward.