A simple tool to keep a public Changelog
Keep your users up-to-date with an fully integrated changelog tool for your software, app, or product
Keep your users in the loop with a changelog
Sleekplan is an embedded all-in-one tool to track customer feedback, build a roadmap, and keep a changelog - all in one place - made for mobile apps, and web-based software. Easily notify your users about recent changes, product updates and announcements using in-product announcements and email notifications.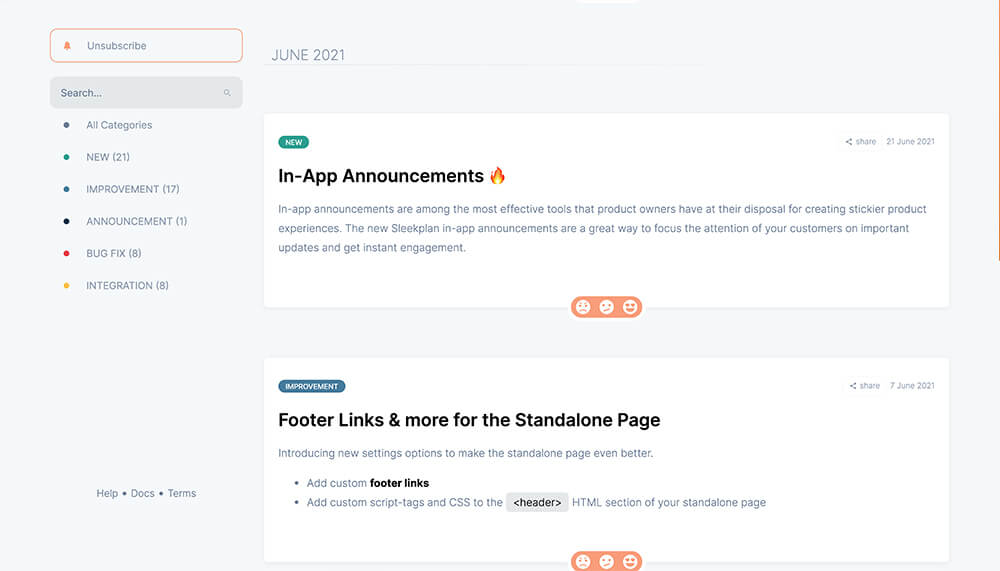 A Changelog Tool,
loaded with powerful features!
Sleekplan is the swiss army knife, packed with a whole bunch of features, to announce new features, content, bug fixes, or updates at a scheduled time of your choice.
In-App Widget
Install the changelog tool in-app or on your website
Custom Domain
Setup a custom subdomain to share your changelog
Call-to-action
Point your users into the right direction
Unread Badge
Let your users know when new changlogs arrive
Schedule
Changelog Updates
Easily schedule changelog updates to a set day and time to notify your subscribers. Send announcements at the perfect time to boost engagement.
Keep a Changelog:


Public or Private

A changelog tool for your internal and public updates. You can easily control the access to your board. Make a public changelog to keep users and customers up-to-date or limit access to internal or external audiences.
Customize Appearance
Your changelog needs to fit your brand tone and style. That's why Sleekplan provides you with a whole bunch of customization options to make that happen.
Send

Announcements Don't let your hard work go unnoticed! Let users subscribe to your recent updates and improve user engagement with a range of different ways to get your changelogs in front of your audience.

After all, what good is a changelog if no one notices? Sleekplan allows your user to subscribe to changelog updates and you can announce new posts via email or right in-app.

Get Started
Collect Feedback

from Changelog posts
Fast feedback and short development cycles are the key. Get feedback on your recent changelog updates and announcements, so you can keep track of the customer satisfaction for your software, website or mobile app.
Trusted by
all-size companies
What is a changelog software?
A changelog is a change protocol where changes, for example to a software, a website or within a project, are documented. So, in a changelog - also called 'release note', 'news', 'what's new' etc. - changes and the history of a new development are documented.
The content and structure of the changelog
The information logged in a changelog can vary. In an internal company system, usually all changes and thus numerous small details are documented. This can be very important to ensure traceability. Often, however, customers are not interested in all the details of a change; for them, the benefit of a change is the main focus. A changelog within software development is therefore also a marketing instrument. It is an evidence for the further development of features and a possibility to highlight individual aspects of the change.
The design of a changelog for users causes relatively much effort. Many companies therefore work with a configuration or changelog management system like Sleekplan that documents all changes and marks the information that is later - manually or automatically - transferred to the changelog.
Different formats
The form in which a changelog is presented varies: it can be a flat or nested list of changes, a table or a document. The form depends on the purpose of the log: If it is an internal company log, changes are often managed in lists and/or tables. If it is information that informs users about new developments, improvements or bug fixes of a software, it is usually provided as a document.
A tool to build a changelog!
If possible, you don't want to worry about creating a changelog yourself, because the time can be better invested in development. That's why we have built a simple widget based tool, which takes care of the creation of the changelog for you. The tool can be easily integrated into any existing web or mobile application, so your users don't have to leave the application to see the changelog.
Satisfying customers, made simple.
Start your 30-day free trial and you can simply try the Business plan 30 days for free without any conditions. If you are satisfied, you can switch to a suitable plan afterward.