Website Feedback Tool
The all-in-one Website Feedback Tool
Sleekplan is an embeddable all-in-one feedback tool to collect issues, suggestions, and measure satisfaction from your website
A user feedback tool for your website
Our website feedback tools allows you to collect feedback from your customers and website visitors. The feedback, suggestions, and issues you collect helps you to identify and fix bugs and continuously optimize your application based on valuable user feedback.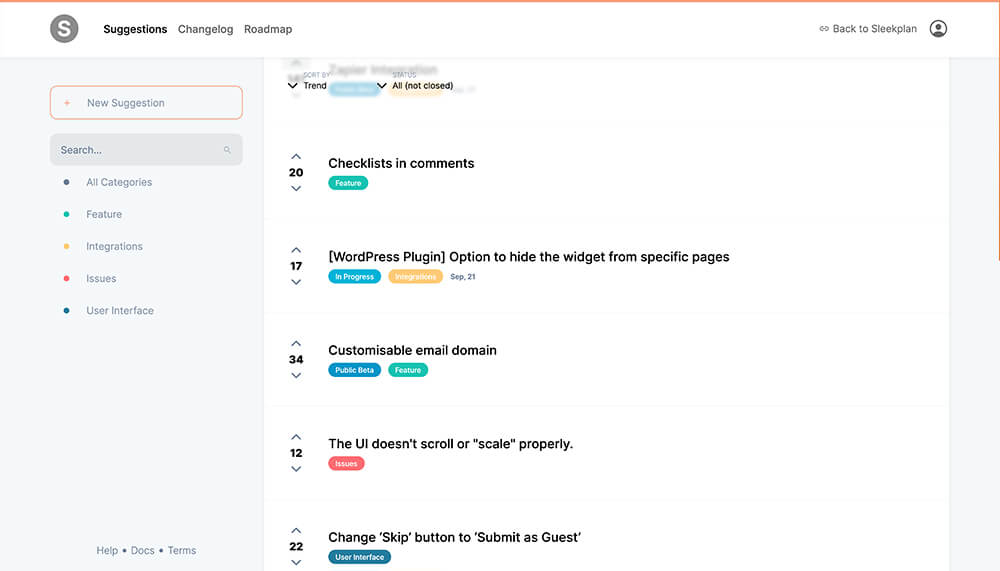 A Website Feedback Tool,
that covers the whole feedback loop
Sleekplan is a website feedback tool packed with a whole bunch of features, to collect feedback, share a public roadmap, and keep a changelog right on your website.
Feedback Board
Collect feedback from anonymous or known website visitors
Public Roadmap
Be more communicative and transparent
Changelog
Share news and updates with your website visitors
NPS & CSAT
Get insights about your visitors satisfaction
Collect Feedback
from your website visitors
Sleekplan combines everything, that a website needs to cover the whole feedback loop, in one easy-to-use feedback tool: Feedback Board, Roadmap, Changelog, and Satisfaction Surveys.

One powerful feedback widget that can be embed directly into your website. Capture valuable feedback in different ways and across different channels.
Jump on

Discussions

and let visitors

Vote on their favorite Suggestions

Let website visitors vote on public feedback. Over time, the most popular suggestions will bubble up to the top. Reach out to every visitor with the same intent and enable discussion.
Sleekplan is much more than a


Website Feedback Tool Sleekplan is a single place for all user feedback, moreover it is a place to manage the entire feedback loop for any website, SaaS and mobile app. Let your users post and vote on feedback from within your website. Assign ownership to posts and using the roadmap saves you time managing all the feedback while keeping your users in the loop.

Get Started for free
Announce new Features
on your Website
Don't let your hard work go unnoticed! Let users subscribe to your recent updates and improve user engagement with an easy-to-use changelog.

Announce new features, your latest releases, and relevant news, on your website.
Trusted by
all-size Businesses
Why is it so important for your success
to use a website feedback tool?
The voice of the online customer is becoming increasingly important in the context of optimizing websites and apps. That's why web analysts and digital marketing experts are increasingly using website feedback tools for collecting customer feedback. Wondering which website feedback tool to choose? Try Sleekplan, an all-in-one user feedback solution!
Getting feedback from website visitors - and that's what counts - through online forms, widgets and surveys are different ways to ask questions directly and get immediate answers. The different feedback modules can be used for different purposes. For example, you can ask how visitors perceive your website, how they got there, why they visit the site, and whether they have suggestions for improvement. Website feedback tools give you the opportunity to manage user suggestions or complaints in a structured way. Learn from your feedback, and it will create higher customer loyalty.
What is a Website Feedback Tool?
Website or customer feedback tools allow you to collect feedback from your customers and website visitors. That works in the form of a survey or a request form. You can use the collected user feedback to detect and fix problems and errors in your website, and thus continuously improve your service.
Advantages of Website Feedback Tools
Deploying feedback software for your website brings several benefits to your business, including:
1. Continuous improvement
The biggest benefit of using a customer feedback tool is the continuous improvement of your website. Whether you're ironing out small spelling mistakes, moving buttons, or adjusting the colors, with every step, no matter how small, you're optimizing your website
2. Customer loyalty
A dynamic exchange between companies and users also improves customer loyalty. The users of your website feel understood and taken seriously when they receive a response to their feedback or suggestion. The more you approach and respond to your users, the closer customer loyalty becomes. Would you like to learn more about Sleekplans's feedback and analysis platform? Do not hesitate. Just give it a try!
Satisfying customers, made simple.
Start your 30-day free trial and you can simply try the Business plan 30 days for free without any conditions. If you are satisfied, you can switch to a suitable plan afterward.