Feature Request Tool
A simple tool to keep track of Feature Requests
Give your users a voice with an easy-to-use standalone board and an in-app feature request tool
How to track Feature Request?
Sleekplan is a tool that helps you and your team to record feature requests, bugs, or suggestions via an embedded widget straight from your application. Customers can add their own feedback and vote on existing feature requests. This allows you to quickly identify useful product ideas and improve existing features.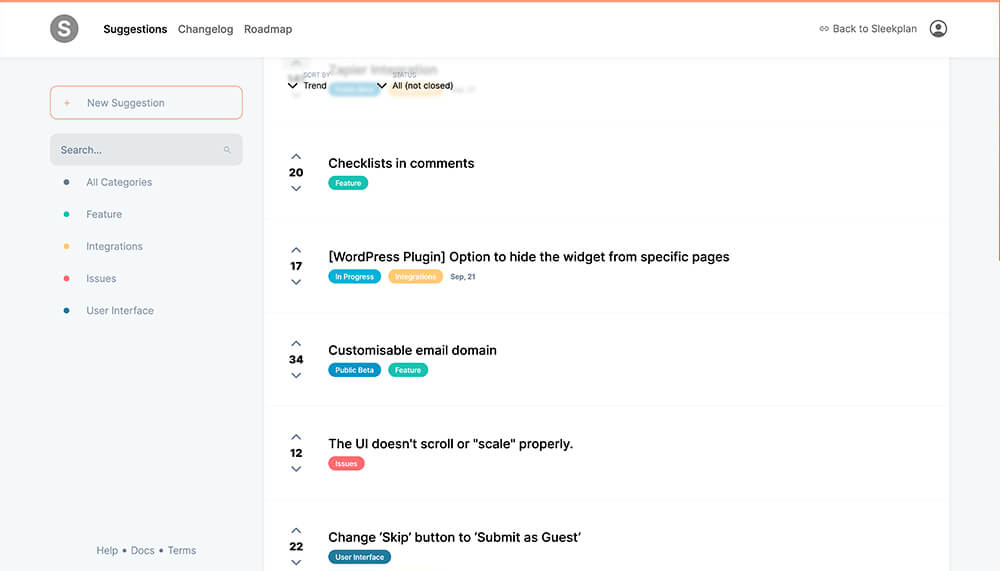 One Tool to handle
all your feature requests
Track all your feature request in one simple tool, let user submit suggestions, prioritize your roadmap, and share new updates with in-app notifications or send out an email to your customers.
Feature Board
Simply track feature requests from your user base
Roadmap
Help your users understand what you have prioritized
Changelog
Keep everyone informed on important with announcements
Satisfaction
Easily measure and track customer satsfaction
1. Collect
feature requests
No more guessing. Use feature requests, user votes and comments inside your application to make feedback-driven decisions.
Use our standalone solution with your domain (e.g. feedback.yourcompany.com) or our embedded feedback tool.
Collect additional information about your customers, like your internal ID, MRR or weighting.
2. Prioritize
product features
You can't satisfy every need. After you have your feature requests it is essential to prioritize.

Our tool supports you by calculating an impact score based on meaningful metrics for each request.
3. Build
a product roadmap
Once you have defined your backlog, you can start working on new features.
Use a clear roadmap in Kanban style, drag and drop items bewtween different states, and we will keep your customers up to date.
4. Keep
a changelog
Fast feedback and short development cycles are the key. When the software evolves, your customers want to know how and why it evolves.

We will keep a changelog and notify your customers by email as soon as you have a feature request.
Trusted by
all-size Businesses
Satisfying customers, made simple.
Start your 30-day free trial and you can simply try the Business plan 30 days for free without any conditions. If you are satisfied, you can switch to a suitable plan afterward.